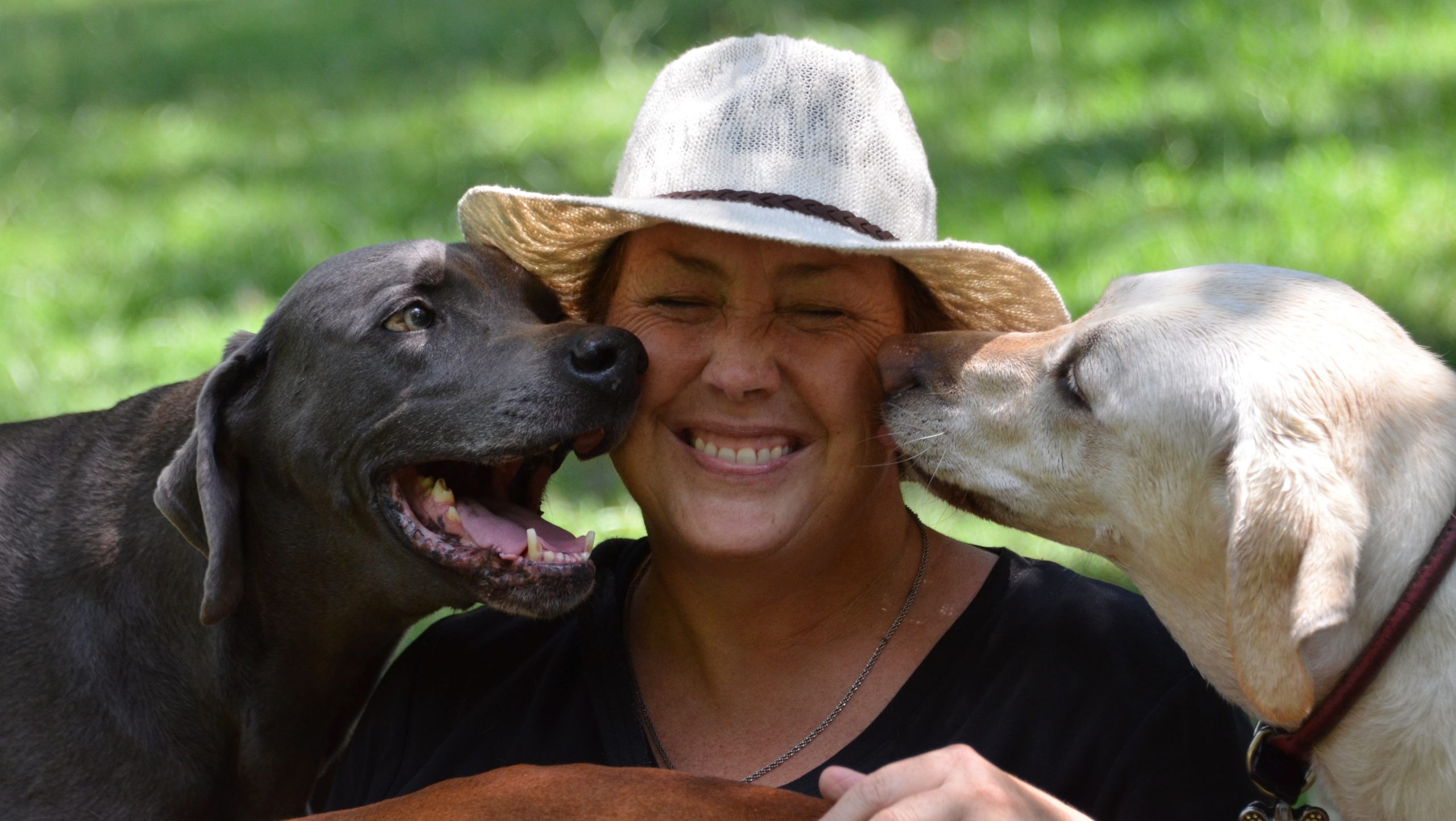 Penny Miller is a British born canine behavior counsellor who had a 'Come to Jesus' moment when she witnessed a local English dog trainer she had hired to train her naughty dog Nelson, use a choke chain to almost strangle him into submission.
Right after she threatened to lay the guy out, (yeah, she's like that), she enlisted the services of British dog behaviorist Dr. Kendall Shepherd who taught her a different, kinder way of looking at behavior problems, and the decision was made there and then to pursue this further.
Years of study in dog psychology and behavior, both in college, and later, with world renowned trainers like John Rogerson, Patricia McConnell, Michael Shikashio, Ken McCort, and Suzanne Clothier to name but a few, have provided Penny with a uniquely empathic approach to dog behavior and handling but, she says, her greatest and most intense period of learning was always and will always be her work with shelter dogs.
It was in the harsh shelter environments that she realized that in order to get the best out of any dog, we must allow them to exhibit natural behaviors and give them choices. A prison…whether it be a tie-out, a tightly gripped leash, a shelter pen or even a luxurious but fractious home environment that they can't get a break from…. is always going to bring out the worst in any dog.
To this end, Penny conceived and built the multiple award-winning Desperate Dogs, a luxury 'Freedom Ranch' for dogs utilizing kindness, empathy, choice and the ability to move….giving nervous dogs a moment to breathe, time and distance to work out problems for themselves in a calm, non-threatening environment.
The DD Ranch has changed the lives of literally thousands of dogs in Georgia…and quite a few from further afield, with clients travelling from as far as New York, Florida and Alabama to experience the healing patience of the Ranch staff whose number one word is 'empathy' …..and, of course, the beautiful Ranch grounds.
Penny has been recognized for her work with the Gwinnett County Sheriffs Office Jail Dogs Program, for whom she was a special advisor for three years, working with their more severe aggression cases and teaching the inmates about dog behavior, as well as helping as a post-adoption counsellor, for when the jail dogs had trouble settling in on the 'outside'.
She helps many local rescue and shelter organizations in Georgia with problem dogs pro-bono and is also co-founder of Off The Chain, a charitable organization that provides free fencing, neutering and most importantly, liberation to chained-up dogs.
Her proudest achievement though is the founding of 'Frankie and Andy's Place' holistic senior dog sanctuary and hospice care facility which stands in 3 acres of land at the DD Ranch and where cast aside dogs are pulled from kill shelters to come live out their days in absolute luxury.
With the mindset that 'food is medicine', Penny has undertaken years of further study into canine nutrition and nutraceuticals and is the proud author of two books on the subject of canine health and wellness 'Cut the Crap- A Simple No-Nonsense Guide To Feeding Your Dog' and 'Frosty-Faced And F*cking Fabulous-Love, Life and Good Health With Your Senior Dog'.
These days, when not working at Desperate Dogs or Frankie and Andy's Place, Penny can be found with her head in medical text books as she navigates towards her next goal….to become a certified Natural Animal Health Practitioner, so she can further help the 'oldies' in her organization.
Penny feels that she has been given a humongous gift being able to work with, and for, dogs and says that the best thing about her life is that it NEVER, EVER feels like work.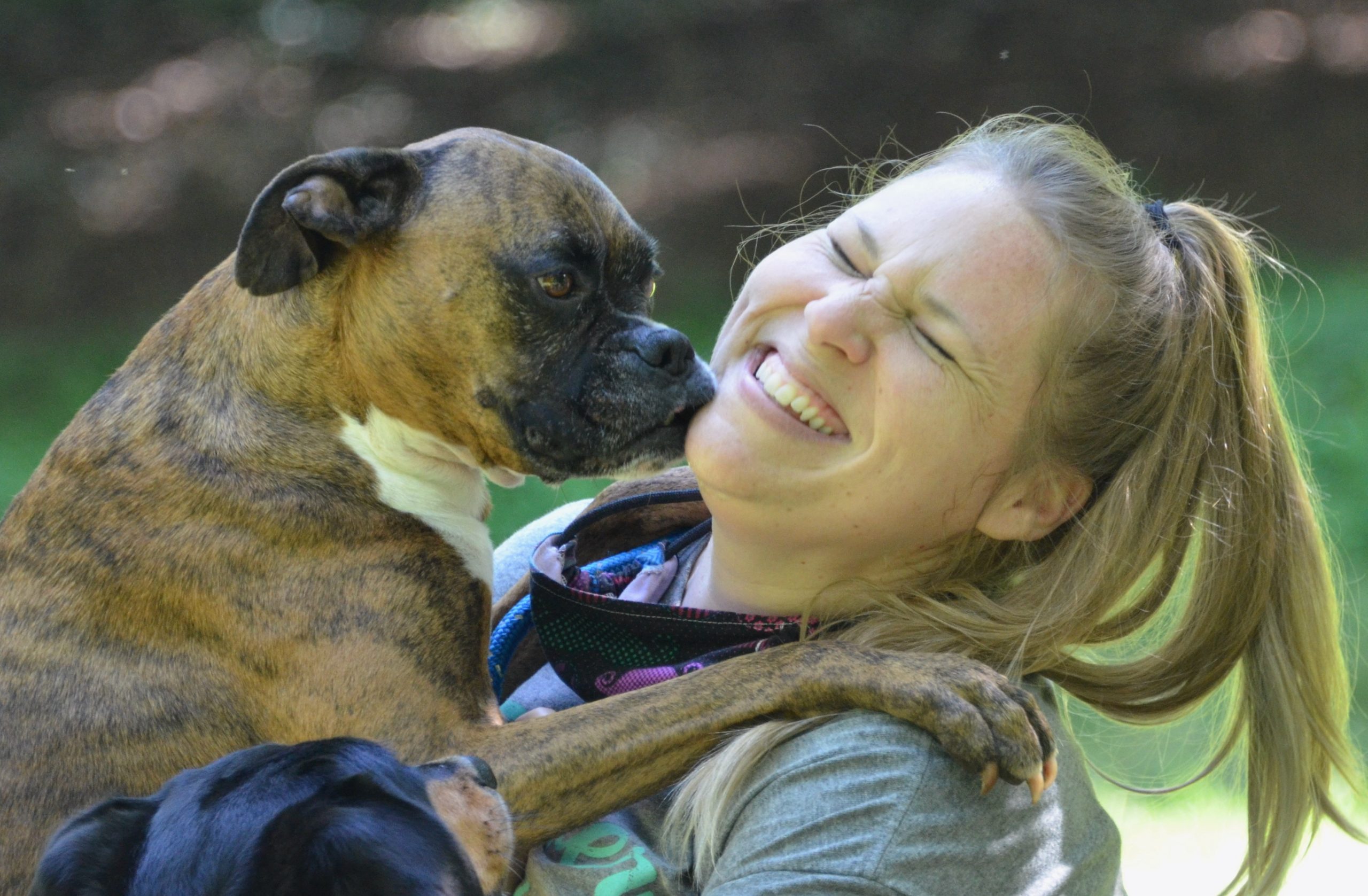 Kristen Snyder is a 16-year veteran of the dog boarding industry, having decided to make the switch right after finishing her early childhood education degree and realizing she actually loved being with dogs all day WAY more than children!
As we all know though, dogs are mostly like 4 year old children, so we would say that this part of her education was definitely NOT wasted!
Kris has a long background in dog rescue, having for years volunteered with Gwinnett County Humane Society, as well as a local German Shepherd Rescue where she spent hours and hours of her own time gently and patiently training and rehabilitating problem dogs to help make them adoptable.
Her patience and kindness with dogs who have had a troubled past has changed many a canine's future…
This is very much a skill that she brings to our DD clients, where her first thought for every dog is 'Let's be friends, but I promise we'll take our time and make sure we don't overwhelm you, we need to set you up for success…'
Kris is an extremely competent first-aider, and performs daily wellness checks on our clients but is also pursuing an education in advanced animal healthcare in her spare time so that she can be even more informed in how to handle possible emergencies and spot chronic or acute conditions that the owner might have missed.
She is adept at gait analysis and is also experienced in remedial massage, which she utilizes on our senior guests as needed and uses the healing power of Reiki to bring comfort to anyone who needs it.
These are skills that she also donates to our on-site senior dog sanctuary, Frankie and Andy's Place, where, even after the longest of days taking care of the guest dogs, Kris can be found spending time with a hospice dog, letting them know they are loved.
For our Ranch boarding guests, this attention to a dogs' individual needs means Kris can also commonly be found curled up in bed with a thunder phobic dog during a bad storm, or hand-feeding a shy new-comer who just needs a little more bonding time, or sleeping with the 'first time away from home' pup who needs a cuddle.
Kris' ethos is, and has always been, that all dogs deserve love, time and understanding and her life's mission is to ensure that every dog feels that they matter…that they have someone in their life that cares about them.
Of all her many attributes, this is by far her greatest.