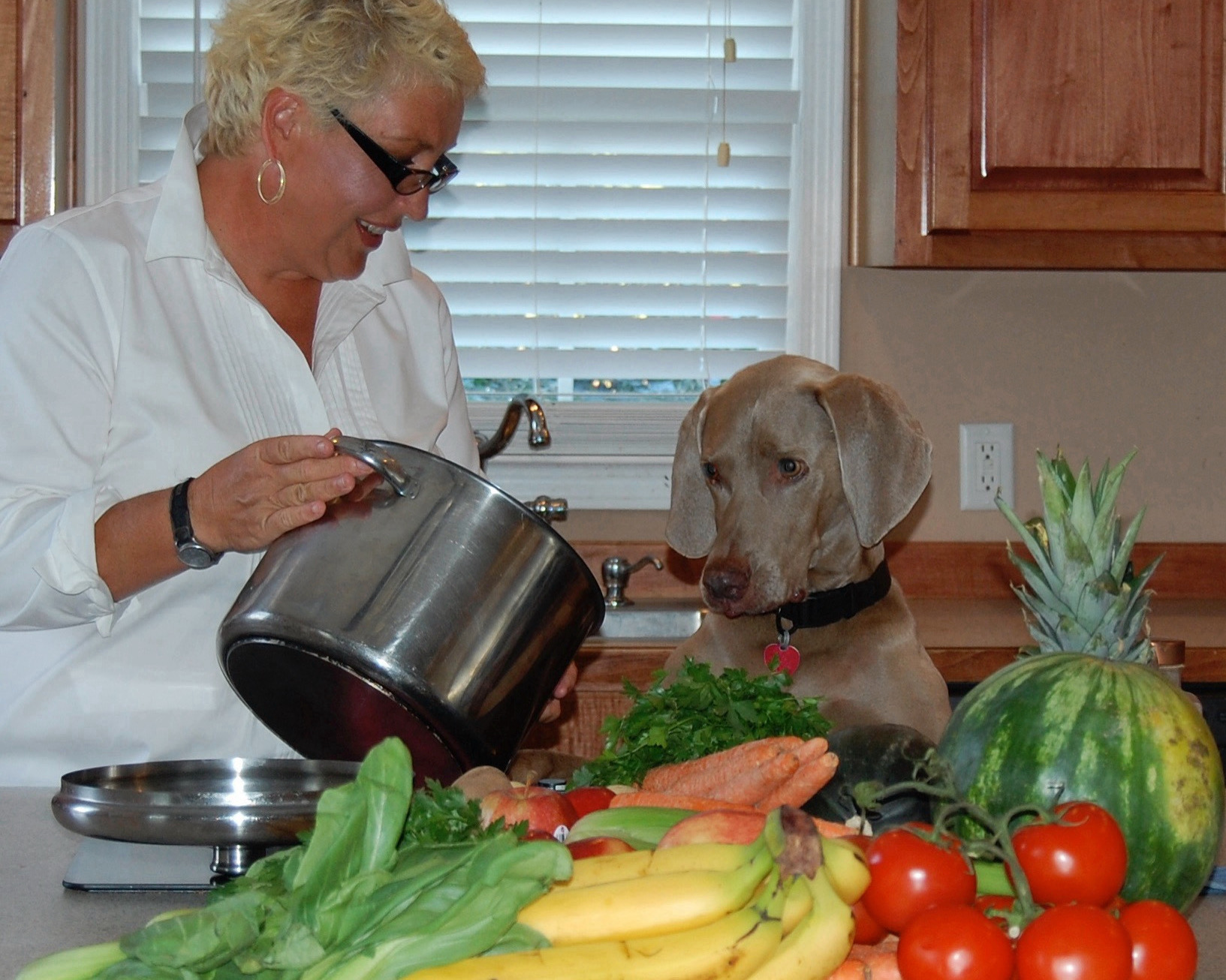 We prepare only the best food for your dog, just like we do for our own dogs…human grade meat [organic where possible] and vegetables, fresh fruits and herbs, rice and legumes. We ensure that your dogs dietary needs are met, if he needs more protein than other guests, we see to that, if he has a special dietary requirement, we see to that. All of the food we serve is holistic and is made with loving care in our own kitchen.
'We are what we eat' so the saying goes and nothing proves this more than the effect that great nutrition and healthy eating can have on dogs' behaviour and health!
We have enjoyed such success with our feeding techniques over the years that we couldn't keep up with the amount of people asking for recipes and ideas about how they too could safely incorporate healthy fresh foods into their pooch's regimen, so Aunty Pen wrote a book called "Cut The Crap- A Simple No Nonsense Guide To Feeding Your Dog" which has sold thousands of copies and raised a BUNCH of money for our non-for-profit holistic senior dog sanctuary. The response has been overwhelming with thousands of dog owners ditching the big box kibbles like Purina, Ol' Roy, Blue Buffalo etc with all their highly processed extrusion techniques and 'cardboard' nutrients and reclaiming their dogs health in a matter of weeks. Increased vitality, less stressed, 'he's like a puppy again!' are all things we routinely hear…….
We are firm believers that food is medicine, just in the same way that we humans can change our own physical health by what we put into our own bodies.
At Desperate Dogs All-Inclusive Canine Resort, we strive to make sure that your dog not only gets the best meals of his life, but also that he is going to be in the best shape possible!
To this end, we use human grade meat and veggies [organic where ever we can] and change the menu every day. Dogs, like humans, love variety, and adore fish as much as they love turkey, or beef or chicken or lamb or….the list is endless. So, we give different meats and vegetables to excite their taste buds. The dogs are mainly fed separately to give them all time to finish at their own pace.
As owners of large breed dogs, we are painfully aware of the possibilities of bloat, a horrific and painful condition that kills many dogs every year. Not only large breeds are susceptible to bloat, but they are more likely to get it.
To this end, we do not feed directly after hard exercise, and dogs who rush down their food are given 'slow down' dog dishes to eat from. After meals, all of the dogs are encouraged to lay quietly and digest their food in peace before rejoining the rest of the gang, so that they don't rush around playing and running on a full stomach. There are many different opinions as to the causes of this painful and horrifying condition, what we aim to do is to be careful, observe constantly and take appropriate action when needed.